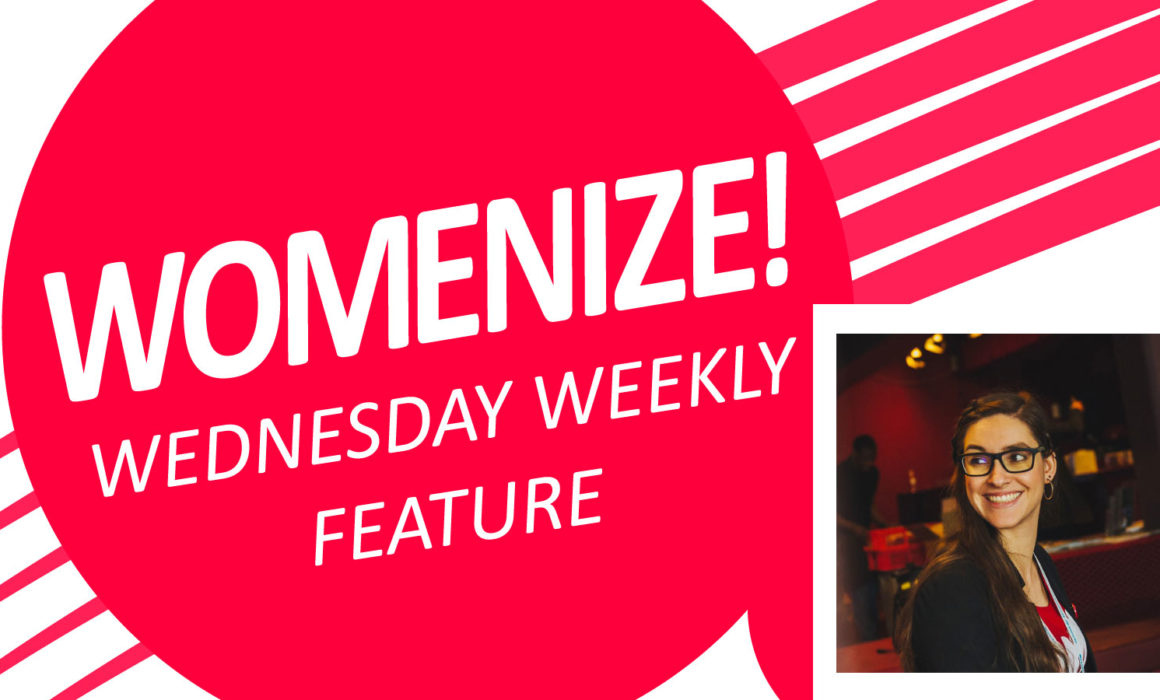 Womenize! Wednesday Weekly is our weekly series featuring inspirational women from games and tech. Our beloved collegue and friend Jenni Wergin is leaving our office to take the next steps in her career, so we're dedicating this week's WWW feature to her! Jenni has been working with Booster Space for 3 years and has been the driving force behind Womenize! as project manager. We couldn't be more proud and of course we wanted to know about her journey:
Hi Jenni, you've just completed your master's degree in European Media Studies at University of Potsdam, yet you've been working in the games industry for several years. What was your stepping stone, how did you end up with Womenize?
In 2015, I took a weekend's course at uni where we developed a news game with Michael Liebe, who is head of #gamesweekberlin and CEO of Booster Space. I asked him if he needed any help with gamesweekberlin and he said they were in need of a speaker manager, so I started doing that.
It's almost like a little fairytale, because just two weeks later, Michael and Ruth Lemmen were at #gamesweekberlin and were looking for a project manager for their new project, which was Womenize. And if you get offered a job, there's a two-second-rule: Either you say yes straight away or you hesitate too long and your chance is gone. So I said yes without any previous experience in the job, dived right into it and gave it my all. From 2015 until the end of September 2018, I did my job with great passion.
How big of a challenge was it to build a career in games while you were busy as a master's student? Got any tips?
Actually it's a lot like in any other industry, you just need to start somewhere. It helps to know which field you would like to go into. The games industry is very young and innovative, so Berlin especially is a hotspot for vastly different jobs and companies that are looking for employees. Often times people don't really know about the variety of jobs there is, next to the classics like game design, programming or game art.
My advice is to try and gain as much work experience as you can during your master's degree (it's doable). That, of course, is only beneficial if you don't plan on getting your PHD (in that case, pursue your academic career). Even if you end up with a good grade in your master's, it's often work experience that future employers are looking for the most.
Another advice is: Apply to more than just your dream company and gather experience in the application process. It's sometimes easier to talk to companies if it's not your dream job that is on the line. And it boosts your confidence.
You've just started work as the new funding manager "games" at Medienboard Berlin-Brandenburg. What are you looking forward to the most at your new job?
What I'm looking forward to the most as Medienboard Berlin-Brandenburg's funding manager, is boosting the games industry locally as well as nationally. There's so many young and creative developers here who are not able to gather enough start-up capital to realize their dreams and goals. On top of that, there's a lot of potential in Berlin's indie scene and I am happy that I get to make a difference for them. Boosting the games industry, pushing forward – that's the most amazing thing about my job. I'm right at the source of new ideas, trends and developments, and I'm super excited!
Thank you for your work and dedication – you go, girl! ❤
Jenni's links:
Twitter: @yun_jenni
Medienboard Berlin-Brandenburg: https://www.medienboard.de/
YouTube: Two Into Indie